NEWS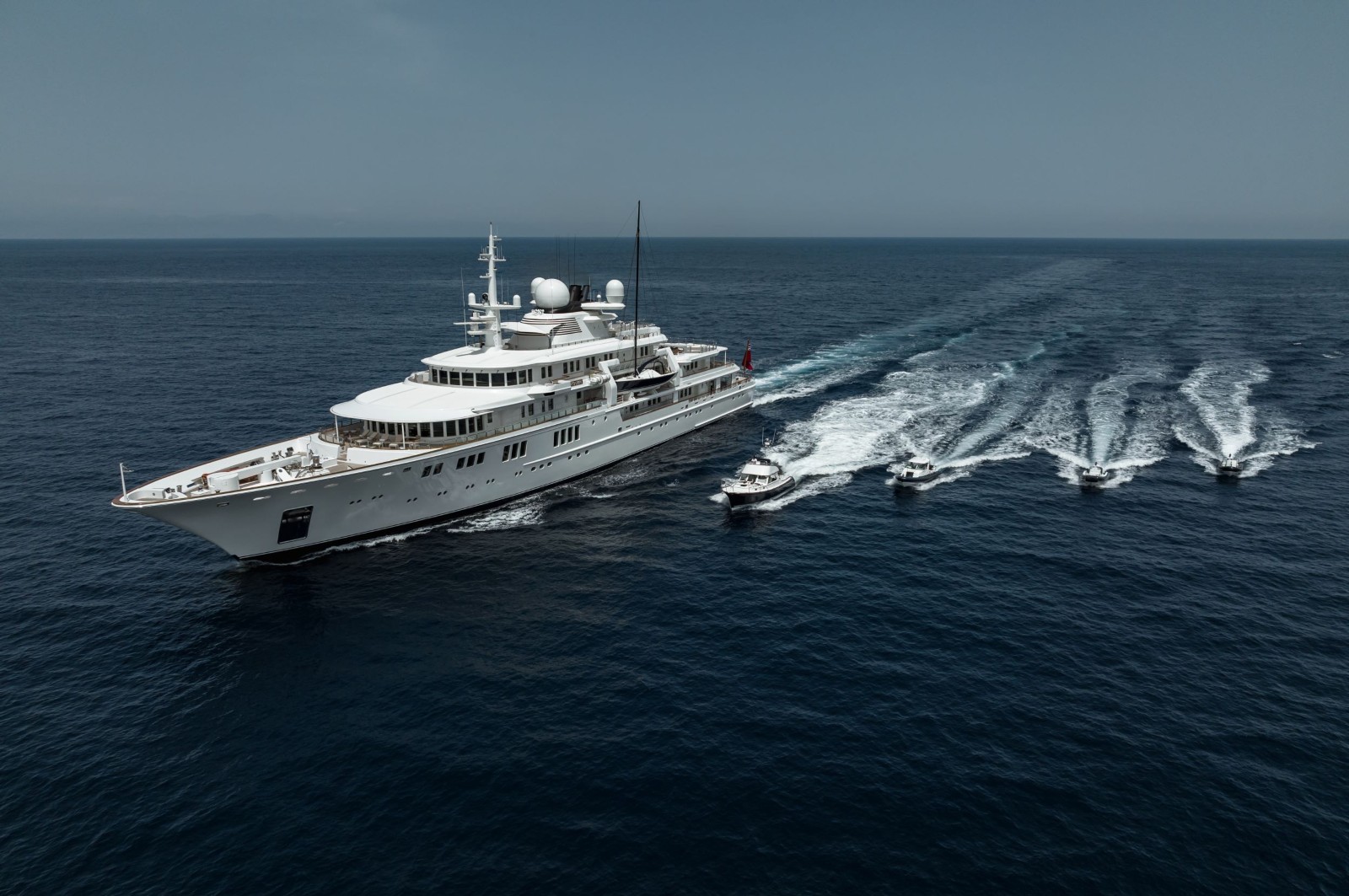 The legacy of a Legend: Nobiskrug's 92m superyacht TatooshThe yacht that launched both a shipyard and contemporary yachting
The turn of the millennium marked a pivotal moment in the history and heritage of superyacht design. It was a period when a swath of groundbreaking models were delivered and precisely in those few years that wrapped the moment we moved into the 21st Century. Nobiskrug's 92-metre superyacht Tatoosh is one of the giants that stands proud as a definition of change – and has only grown in prestige since her launch. Her delivery was monumental not only for her builder Nobiskrug, which rebranded itself following Tatoosh as a leading superyacht builder, but for superyacht design more generally.

With Tatoosh now back on the market, SuperYacht Times caught up with Stuart Larsen of Fraser Yachts and Matt Emerson of Burgess who are co-representing her. Having sold her to her current owner, Larsen remembered the project well.

Nobiskrug delivered Tatoosh in 2000, during an era where we flirted with dial-up modems and became aware just how impactful the internet would be in shaping the future. A collection of tech entrepreneurs was driving this future and, more aware than most of how technology would enable them to spend time almost anywhere and continue to be productive, were in search of new frontiers. Many of them turned to superyachts which, thanks to IT, enabled them to combine work, adventure and entertainment. The first wave of US tech moguls were not only new clients to the industry but came with a series of ideas, demands and the finance to drive them. It was the dawn of a new era of superyachts.

One such client and his project manager Claus Kusch approached Nobiskrug – the German shipbuilder with a century worth of boat building under its belt – to construct a custom-built superyacht. This was a pivotal moment for Nobiskrug as, until this order, the yard had only built commercial and cruise vessels; Tatoosh was its inaugural entry into the superyacht sector. It was a large vote of confidence from the owner, but Nobiskrug's vast portfolio was enough for him to entrust them to build one of the world's largest superyachts.

"A lot was vested in her success," Stuart Larsen reflected. "Nobiskrug was a skilled commercial shipyard interested in a new market. They started big and built on that experience gaining a reputation for full-custom new constructions and ingenious building methods. But Tatoosh was instrumental to that process."

"Claus Kusch, Tatoosh's exterior designer, was also absolutely pivotal to the project," Larsen continued. "Kusch pioneered some of the most ground-breaking yachts in the late 20th and early 21st centuries. So, when the client decided to build a yacht, he went straight to Kusch. Claus was hugely experienced, a tough negotiator, chain smoker and workaholic, client-centric and absolutely brilliant."

"Nobiskrug had the skills, expertise and organization but needed an interface, someone who could guide them through transition to the new yachting market. Claus Kusch was an inspired choice – although he also rode the yard very hard. He excelled at managing the armies of skilled subcontractors, which are part and parcel of all yacht construction, yard and he knew yachting. Nobiskrug got the best of both worlds." Kusch was a naval architect and project manager by trade but brought a unique approach to his craft. What raised Kusch above a number of his contemporaries, Larsen and Emerson agreed, is that he "would design a yacht from the initial concept, including naval architecture and styling, and then go on to manage the project to the end of the warranty period. Kusch yachts were 100 percent custom made."

Tatoosh, of course, is testament to this. But then so also is the classic 48-metreLady Georgina (ex Katalina) by Amels, which he oversaw the project management of in the early 1980s. The 75-metre superyacht Meserret III (ex Leander G) by Peene-Werft GmbH, delivered in 1992, was another Kusch-designed predecessor of Tatoosh. Notably this was a similar story to Tatoosh, as Peene-Werft GmbH was a commercial shipyard that worked with Kusch on its first superyacht project. However, unlike Nobiskrug, Leander G was the yard's first and last new-build superyacht project before it was acquired by Lürssen in 2013.
During the year 2000 another of Kusch's designs hit the water, the 112-metre superyacht Le Grand Blue, which had proved instrumental to the construction of Tatoosh. Kusch didn't just pen the naval architecture of Le Grand Blue though, as her exterior designer, Stefano Pastrovich explained, "The control of the entire construction and management was done not by a shipyard but by one man, Claus Kusch". LGB didn't look like a yacht on the outside but she's 100 percent yacht inside.

Following Tatoosh, Nobiskrug has delivered a further 11 superyachts, including the famed 80-metre superyacht Artefact, and the world's largest sailing yacht, Sailing Yacht A. The yard currently has two projects in-build, the 70-metre Miza which will be delivered imminently, and the highly anticipated 77-metre Black Shark, which is slated to hit the water next year. But this whole dynasty is based on the Tatoosh bedrock, which grew from the US tech boom and the conversations that spurred on the construction of this 92-metre superyacht.

"Nobiskrug has embedded much of Claus Kusch's approach in their DNA," Emerson explained. "The yard is still 'known for pushing the boundaries and for not being a mass builder, able to embody the unique vision of the owner combined with innovative ideas and advanced technology'. Tatoosh set new boundaries and Nobiskrug became a serious new player in the yachting industry almost overnight."

Larsen continued, "This fruitful partnership was not coincidental. The owner who built Tatoosh was very well acquainted with Le Grand Bleu and certainly influenced by her capability and range if not her rougher exterior. When he decided to build, he approached Claus Kusch who was responsible for the naval architecture, exterior design and project management of the new build, including the yard's selection process." Kusch worked in collaboration with Studio Yacht, the Rotterdam-based studio, on the exterior design of Tatoosh – the duo worked in unison during later years on the design of the 110-metresuperyacht I Dynasty and the 133-metre Al Murqab. As was in vogue during the period, Tatoosh was penned with long flowing lines which are punctuated by small windows that run the length of her superstructure and which tighten forward at the helm and pilot station.

"Unlike more recent platform yachts, where the exterior design is often driven by fashion trends, the design of Tatoosh's exterior (and layout) was driven by function," Larsen said. "Kusch's ability lay in blending function and aesthetics to create efficient yet captivating exterior lines. The turn-of-the-century industry and billionaires were tech-driven, the first generation to appreciate the scope of cellular phones and the internet, which gave them an appreciation for capability and purpose over fashion for fashion's sake. As a result, Totoosh's exterior has not dated, she has simply become a classic."

Spanning five decks and boasting 3,229 GT of interior volume, Tatoosh was the largest superyacht, by volume, to be destined for waters outside of the Middle East. A superyacht of such grand statute needs an interior that carries her grace, and the highly acclaimed UK-based Terence Disdale Design studio was enlisted for the job. Tatoosh can accommodate up to 19 guests in 11 guest suites, each brimming with that Disdale charm, while her owner is graced with an ingenious twin-level private apartment that occupies the forward section of the yacht across two decks. The owner is offered the same level of privacy as if the suite spanned a full, single deck; however, by offering a split-levelled space, guests don't feel overlooked as they can still access all decks, without encroaching on the owner's privacy or feeling that large sections of the yacht are off limits.

The apartment itself is striking and split into daytime and nighttime areas. The former includes a gym, a private study and a large forward-facing observation lounge designed for family use. While the latter, situated on the main deck, is home to a massage room, two VIP or children's staterooms and the master suite itself. The suite is full-beam with large windows. The central sleeping area has a small salon starboard and a study portside. Access to the large bathroom can be found through his and her dressing rooms.

"Disdale was at the top of his game and the master of the GA at the turn of the century. Trained by Bannenberg, his 'beach-house not pent-house' approach was perfect for 21st century yachting. Disdale focused on ensuring yachts were not only beautiful and elegant but livable and efficient," Matt Emerson said.

Tatoosh was built for ocean-going cruising and long-distance voyages, and Disdale fed this essence into her design-DNA, ensuring that there's entertainment for all those onboard. To name but a few, Tatoosh has large swimming pool that doubles-down as a dancefloor when not in use, an impressive screening room decorated in rich, red velvet, a wellness suite that's spread across a number of decks, an arsenal of tenders (all of which are original) and not one, but two helipads, one of which has a dedicated helicopter spares store, a helicopter refueling station and an approved fire station – allowing the yacht to be used like a small heliport.

It's not only guests who'll be aboard for those long voyages though, but also her 31 crew. Disdale ensured that their quarters are also generous and a pleasure to be in. "The standard of finish and materials used is high and all crew areas are in mint condition belaying the yacht's age," Emerson added. "Crew quarters were not an afterthought to be squeezed in before the days of stringent classification requirements. And in terms of longevity, Tatoosh current crew complement is a testament to her design."

While Disdale was busy with bringing the comforts for long-range exploration, Nobiskrug had the challenge of actualizing the demand – and the shipyard went above and beyond. When launched, Tatoosh was one of the quietest yachts afloat and she's since cruised in waters all around the world (name a place and Tatoosh has been there!). Thanks to twin DEUTZ-MWM diesel engines with Visco Masse rubber mounts, she boasts an impressive 7,000 nautical mile range when cruising at speeds of 12.5 knots.
"The choice of Deutz engines was driven by their proven design which ensures high reliability, long engine life and extra-long TBO's. Maintenance work is required only after many operating hours and can be done quickly without extended downtime. Low fuel consumption makes for low operating costs and low exhaust emissions make for a cleaner environment," Emerson explained.

Tatoosh has been meticulously maintained and systematically upgraded and refitted over the years, her most recent appointment was an extensive 12-month refit with Kusch Yachts in Germany, completed April last year. Some of the highlights of the works include a 20-year Lloyds Class Survey, a full repaint of both the hull and superstructure, a plethora of mechanical services and the refurbishment of the crew areas. Tatoosh also had a new Audio-Visual system installed and her tenders were serviced and repainted.

"Today, after 20 years of exploration yachts getting more and more hype and exposure, we forget how extraordinary Tatoosh was when she was delivered in 2000," Larsen concludes. "She not only set a new benchmark for construction, but also opened yachtsmen's eyes to the boundless possibilities of global exploration prompting them to rethink how they wanted to use and build their yachts. She marks the beginning of contemporary expeditionary yachting, and her influence is still felt 20 years later."

Tatoosh is on the market, listed with Stuart Larsen of Fraser Yachts and Matt Emerson of Burgess acting as co-central agents. She'll be on display at the Monaco Yacht Show 2022.
By Alexander Griffiths