NEWS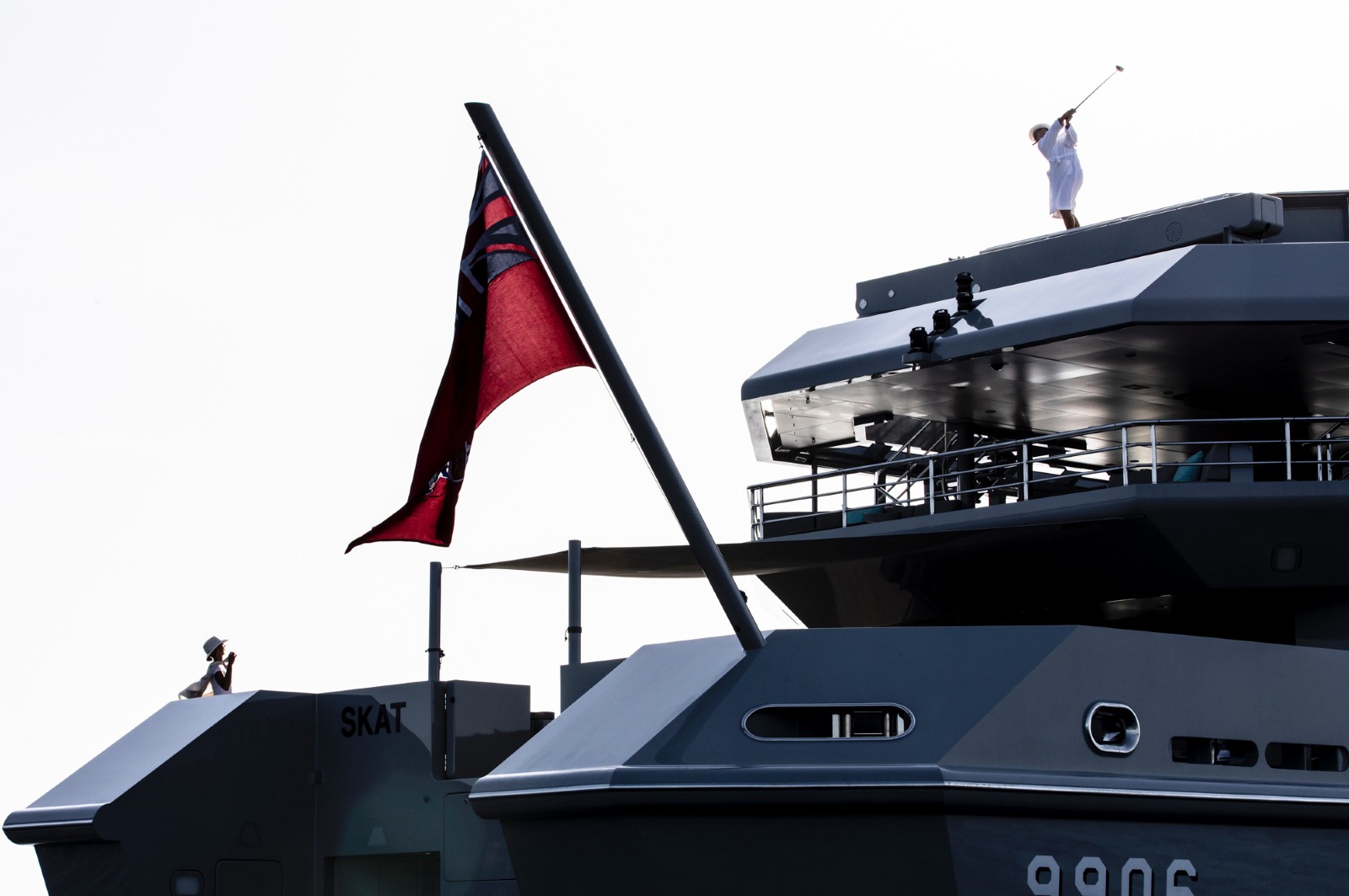 FIVE YACHTS IN MONACO YACHTS SHOW Three at the dock and two at anchor
Stuart is pleased to confirm that five of his central listings will be on display at the MYS. Tatoosh, C2 and Skat will be in slips in Port Hercules while Planet Nine and Mia Elise II will be at anchor.
Collectively adding up to over 10,000 gross tons, each of the yachts has a distinctive track record and individual features that set it apart, in terms of design, performance, track record and build quality and capabilities.
The 92m TATOOSH was built by Nobiskrug with exterior styling and naval architecture and interior by two industry legends, Claus Kusch and Terry Disdale. Tatoosh spans six decks and - one of her most distinguishing features - carries an extraordinary range of tenders, two of which are over 13m. She is heli-capable with an on-board refueling system. Commercially registered and MCA complaint, she has an amazing track record of global cruising.
C2 was designed as a family yacht, a home on the water. Built by another renowned German shipyard, Abeking and Rasmussen in 2019, her hull was extended by 7m to incorporate a new 3
rd
generation beach club and swimming pool on the main deck aft. If anything, the refit carried out by the original builder, has further streamlined her sleek exterior lines. Spacious at 2,150 GT, she can accommodate up to 31 guests in 15 staterooms. C2 is commercially registered and MCA compliant.
Instantly recognizable, the 71m SKAT is one of Espen Øino's most iconic designs. Visually dramatic, the exterior is constructed by harmoniously balanced geometric shapes and clean lines which deliberately reflect the materials used for the construction - steel, aluminum and glass. The only curved line is her flared bow. Her distinctive grey color highlights the angular hull design. The minimalist interior designed by Marco Zanini to match the exterior and maximize the use of space, has ultra-clean lines. SKAT was - and remains - well ahead of her time.
PLANET NINE is a true expedition superyacht. Built in 2018 to explore in extreme conditions , her imposing profile by Tim Heywood is reminiscent of a military vessel. In 2019, PLANET NINE completed a five-month cruise to Antarctica and the Pacific coast of South America, redefining luxury exploration cruising. On her return, Stuart remarked that "Planet Nine is one of the very few yachts that has been designed for summer and colder winter long-range cruising. She is ahead of the curve". Built to Lloyd's Register Ice Class 1D and equipped with dynamic positioning and zero speed stabilizers for comfort at anchor, PLANET NINE has a commercially approved helideck, with an enclosed, below-deck hangar accessed by a lifting platform for an eight-ton helicopter, and an onboard refueling facility. The hangar allows Planet Nine to handle two aircraft at the same time.
MIA ELISE II
The 60m American designed and built superyacht, Mia Elise II is known as one of the best charter yachts in her class. And there is a reason: she is the perfect yacht for an active owner and guests. Her layout is excellent with huge outside decks and spacious interior volume thanks to her generous 9.75m (32') beam. Add a beach club with good access to the water, a gym and spa and a completely private owner's deck (with VIPs for children) and an elevator serving all guest decks, and you see why MIA ELISE II is so popular. Her 916 GT essentially allows the same volume as you would find in two 50m yachts! Seaworthy and performing, MIA ELISE II has completed 12 Atlantic crossings since 2016.
All yachts can be seen by appointment. Contact Stuart at +1 954 328 6553 or
stuart.larsen@fraseryachts.com
.