NEWS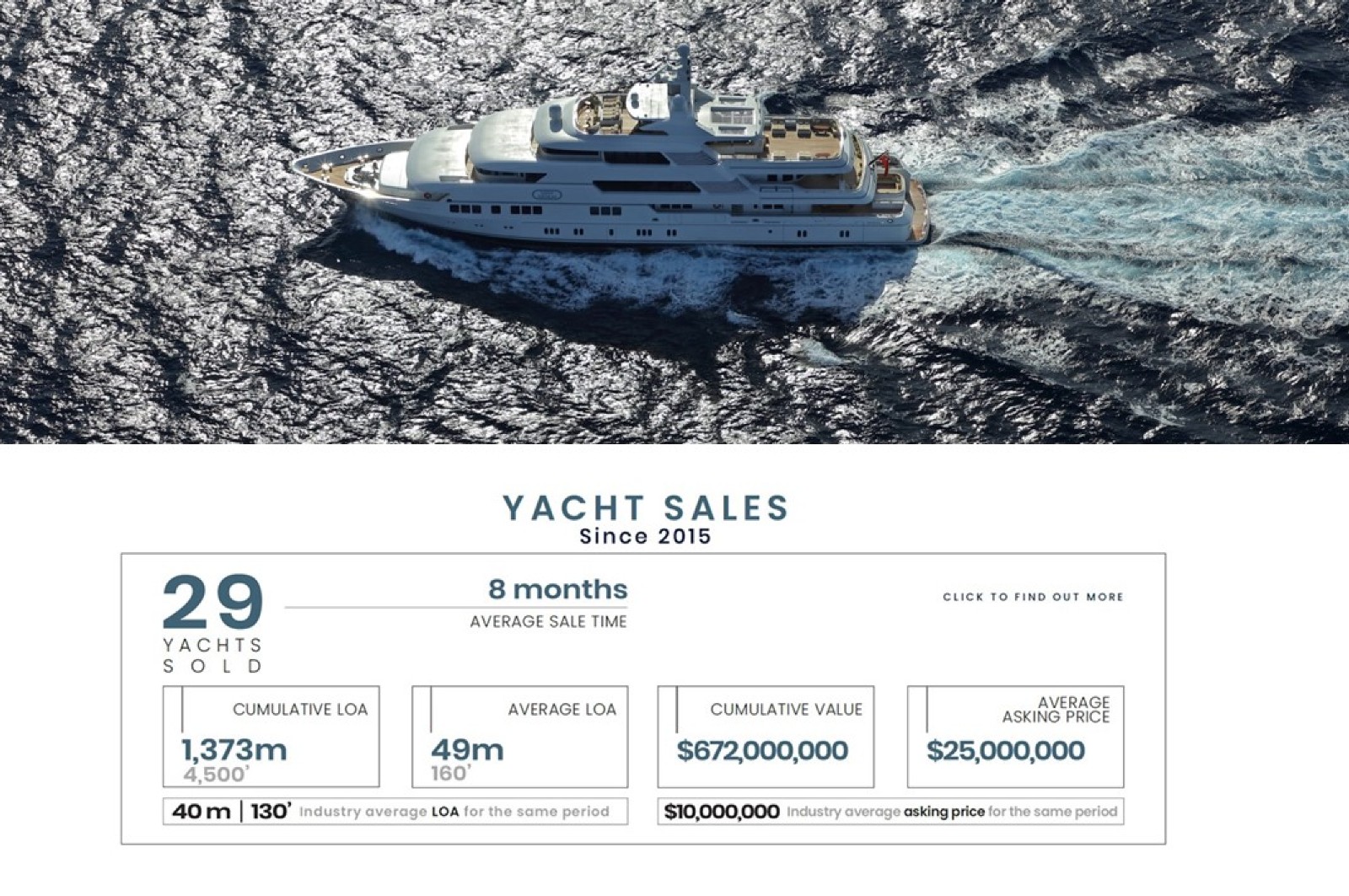 SALES STATISTICS 2015 - 2018Strong performance across all market segments
Heading into 2019, yacht sales continue to be buoyant notwithstanding a fluid economic environment. Following the GFC, the past 10 years have seen increased sales globally; as of 2013, new markets have provided new opportunities while traditional markets have ratcheted up activity especially in the US.

Below is a snapshot of Stuart's activity since 2015, highlighting key performance indicators. Stuart has sold 29 yachts in the past 4 years; 28 brokerage deals and one new construction project. The overall value of the sales, amounted to well over half a billion dollars and the yacht's cumulative LOAs to almost 1,500 meters.

Stuart has averaged 7 sales every year for the past 4 years reflecting both the strength of his main market, the US, and his experience. The 2018 Superyacht Annual Brokerage Report states industry averages to be 40m for LOA and USD 10 million for asking price. Stuart's average LOA for sold yachts is 49m while the average asking price is USD 25 million. Simply said, Stuarts sales average 20% higher in LOA and 60% more in value to the average market.

In addition to robust sales, Stuart has performed consistently across all market segments. The largest yacht Stuart represented was 107m (351ft) and the smallest was 15m (49ft). The number of exploration yachts coming on the market is increasing. Pedigree, classic displacement yachts will always find a new owner. Correct pricing and good maintenance, along with the correct broker are essential ingredients for a speedy and smooth sale.

Speed of sale is a key indicator for sellers. The average sales time of central listing represented by Stuart is 8 months. His listings sell, they do not languish on the market with continuing carry costs.

Stuart has worked with Fraser for the past 38 years. The Superyacht Report ranked Fraser first for the number of yachts sold over the past five years (212). With 29 sales in the past 4 years, Stuart's contribution amounts to 18% of Fraser's brokerage sector's market capitalization.
With the first sale of 2019 completed and 12 central listings on offer, (average and overall LOA of respectively 48m and 577m and average asking price and cumulative asking price of USD 37 million and just under half a billion dollars), Stuart's has set the stage for another year of solid performance.